Quality Assurance Framework
1. Introduction
Central Bedfordshire Council are ambitious for the children and young people growing up in our Local Authority and want every child to enjoy their childhood and achieve their potential. Children Services Operations in Central Bedfordshire Council is committed to achieving good outcomes for children, young people and their families through the continual improvement of the services we provide.
Measuring the impact of our service delivery is crucial to achieving improved outcomes for children, young people and their families. In order to do this, a strong Quality Assurance Framework is required to monitor and evaluate that the services are delivered effectively, and to the standards that enable children and young people's welfare to be safeguarded and promoted, and their needs are met.
Quality assurance is a term that embraces all the activity that contributes to continual service improvement, satisfying the organisation that agreed standards are being met, and that outcomes for children and young people are being achieved.
Quality assurance is a continual and dynamic process. It is an improvement cycle by which we set standards, monitor our impact, use the information we have to improve services, and undertake ongoing review. Quality assurance is more than meeting targets and a counting activity; it is a coherent and qualitative approach, which measures standards and identifies areas for improvement. It should be both systematic and themed, single agency and across agencies.
The Improvement Cycle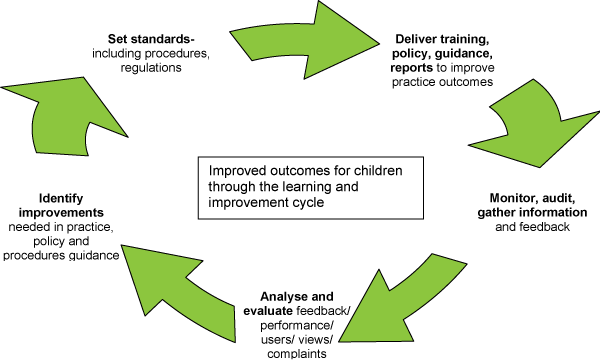 2. The Professional Standards Framework
The purpose of the Standards Framework is to:
Improve outcomes for children, young people and their families;
Set practice standards against which the quality of services and their impact be measured;
Ensure that the services provided are of a consistent high standard and sustainable through regular evaluation;
Is both reflective and proactive through the measure of quality and impact of service delivery;
Support the continuous improvement and development of practice;
Influence the development of policies and procedures to support staff in delivering good practice.
The Standards Framework, whilst focussing on the internal processes and practice standards within Children Services Operations, is linked to the performance management across Children's Services and the Performance Framework of the Central Bedfordshire Safeguarding Children Board (CBSCB).
It is informed by national legislation, regulations and local policies and procedures.
3. Key Responsibilities When Delivering Good Practice and Quality Outcomes
The effective development, implementation and monitoring of quality standards and good practice needs to take place within an organisational context which promotes and supports continuous development and promotes itself as a learning organisation. It depends upon ownership at all levels.
The role of managers and practitioners is to ensure that the service provided to children, young people and their families are of a consistently high quality which positively impacts on good outcomes for children and their families. Each member of staff is responsible and accountable for the quality of their own practice, and has a duty to contribute to their ongoing learning through the evaluation of practice.
Managers in the Professional Standards Service, which includes the Conference and Review and the Audit functions, contribute to the improvement cycle by embedding the standards framework in their day to day work and supporting the operational service to drive up standards through offering professional leadership, challenge correction and practice improvement. The Service has a clear coordination and analysis function aimed at providing an overview of the impact and effectiveness of practice. The Service provides a pro-active approach to developing good quality practice in order to ensure that standards are achieved, improved and sustained. Audit and improvement work informed by themes and issues identified throughout the wider service and planned and targeted with the agreement of the Senior Management Team.
The Professional Standards Service works to the following remit:
Providing professional leadership to practitioners and managers within Children Services Operations by offering challenge and support with correction by ensuring compliance with working to agreed practice standards and developing high expectations for good quality service delivery;
Targeting support for teams or individuals who are identified as needing additional support to enable accelerated improvement;
Delivering regular audits of cases and feedback regarding audit outcomes;
Leading on themed audits as identified in an annual audit programme determined by the Senior Management Team;
Supporting multi-agency audits as required through the CBSCB;
Monitoring the delivery of specific improvement plans arising from Children Services Operations audits;
Developing policy, procedures and guidance to support improved outcomes for children.
All managers have specific responsibilities for monitoring and driving forward improved practice in line with service priorities, inspection and improvement plans, audit outcomes, and responding to feedback arising from individual case monitoring in order to achieve improved and best practice, and the good outcomes for children and young people. Managers also have a responsibility to support practitioners through supervision and appraisal.
Careful attention must be paid to the boundaries between the delivery of the Standards Framework and performance and the role of front line operational managers responsible and accountable for supervision and casework. The role of the Professional Standards Service managers does not negate the accountability of operational managers. Any concerns identified regarding practice and service delivery will initially be shared with the line manager involved and highlighted the relevant Head of Service.
All practitioners and managers are required to be registered with the Social Work England) and to comply with their standards.
In summary the effectiveness of the Professional Standards Framework requires:
A focus on outcomes and the impact for children;
A 'can do' culture which is open to challenge and motivated to change;
Managers and practitioners, who are skilled, supported and enabled and who can provide and accept professional challenge.
4. Key Components of the Professional Standards Framework
Within Children Services Operations, the Professional Standards Framework consists of 4 themed areas of activity. They are as follows:
Performance and practice management and oversight including audit and supervision processes;
Staff and service user feedback which draws on experience and outcomes;
Workforce development including recruitment strategies and learning and development;
Partnership and external scrutiny including member overview and scrutiny, the monitoring role of the Children's Leadership Board and the CBSCB, the latter of which includes multi-agency audit and serious case reviews, and Peer Review and Ofsted inspection processes.
5. Quality Assurance Processes
5.1 Performance Indicators
Children Services Operations is subject to a wide range of both national and local standards. Overall performance is measured against externally reportable performance indicators (PIs) that identify areas of strength and areas for attention and improvement.
The Partnership, Performance & Workforce Development Team collate and provide daily, weekly and monthly performance information regarding Early Help Assessment Activity, Contacts Referral and Child and Family Assessments, Ethnic Profiles, Children in Need, Child Protection, Looked After Children, Care Leavers and Finance. This information helps teams and services determine similarities and differences within and between service areas, performance against local, comparator and national performance and assists in the identification of trends and themes which inform service delivery and planning. Further information can be found in the Performance Management Reports.
To support operational service delivery Children Services Operations managers and practitioners take account of, and provide services within a legislative and regulatory framework. Statutory guidance and regulation provide practice standards which are to be adhered to, and which inform a set of practice standards and Children's Services procedures which have been developed to assist practitioners.
These standards define good practice and make explicit what is expected when providing a service to children, young people and families. They are based on evidence about the elements of practice, which are likely to lead to quality services and positive outcomes for children, young people and their families and carers. These standards are used in commissioning, monitoring, evaluating, supervising and auditing.
5.2 Professional Standards Conference and Review activity – Child Protection Conferences and Looked After Reviews
Child protection conference chairs and independent reviewing officers play a key role in planning (for children at risk of harm and those looked after), and assuring the impact and quality of practice undertaken by Children Services Operations. Their role is to ensure that the quality of the work on a single and multi-agency basis is of a high standard, that performance indicators and procedural requirements are met, and that plans for children and young people are outcomes based and meet the specific needs of the child/young person.
The Head of Professional Standards reports on child protection conferencing and LAC review activity to the Senior Management Team (SMT) and to the Central Bedfordshire Safeguarding Children Board on a quarterly basis.
Quality assurance liaison meetings are held with each individual area of the service on a bi-monthly basis, attended by independent reviewing officers (IROs), child protection chairs and operational managers.
The purpose of the meeting is to assure quality of practice, and minutes of the quality assurance meetings will be sent to relevant heads of service.
IROs and conference chairs complete a monitoring form in respect of each conference/looked after child review. The monitoring form collates quantitative and qualitative information about the conference/review process, preparation of parent/s / children and the quality of practice. This information is collated on a monthly basis and reported to operational managers at the monthly quality assurance liaison meetings in addition to each completed form being sent to managers for discussion in supervision.
All Outstanding (Gold) and Red (Inadequate) monitoring forms will be sent to the Head of Service for the respective service area and Professional Standards, Head of Service and take action to ensure the immediate needs of the child/young person are responded to. IROs and child protection chairs escalate immediate concerns about the safety and well-being of children, and poor practice with practitioners and managers who then investigate the issues raised and take appropriate action. Where necessary concerns are escalated to the relevant Head of Service and the Head of Professional Standards is notified and required to take action to ensure the immediate needs of the child/young person are responded to.
The Conference and Review Service will collate the information contained on the monitoring forms and this will contribute to a quarterly Quality Assurance report presented to Performance SMT, incorporating qualitative and quantitative performance information.
The Practice Manager CRS and the Head of Professional Standards observe three child protection conferences every six months to ensure that the chairing is robust and safeguarding issues are appropriately addressed within the conference. Conference chairs have a peer audit and observation programme in place to share good practice and opportunities for reflection.
A sample of review child protection minutes are audited each month by the Practice Manager CRS to ensure the quality of minutes, evidence that the conference has considered all relevant information, and the quality of multi-agency decision making. In addition the audit will establish that the threshold has been met for an ongoing child protection plan or discontinuation of a plan and is a means of scrutinising the practice of conference chairs.
In addition every request for a conference is reviewed by a conference chair to ensure thresholds are consistently applied across the wider service, and every case where a conference is not considered the most appropriate means of progressing the case is reviewed by the Practice Manager.
Feedback from families is collected by way of a questionnaire following conferences and is gathered annually over a three month period, and collated. This information is presented to the relevant Senior Management Team (SMT). The feedback informs conduct of future meetings and conference practice.
The Practice Manager CRS prepares an annual report on the review of looked after children for presentation to the relevant Senior Management Team (SMT and CSMT). This report is presented to the Central Bedfordshire Corporate Parenting Panel for advice and comment.
5.3 Dispute Resolution Process (LDRP)
The independent reviewing officer's primary focus is to quality assure the care planning and review process for each child, and to ensure that his/her current wishes and feelings are given full consideration.
The IRO should identify areas of good practice as well as areas that need to be improved. All matters of general concern will remain on the monthly quality assurance reports until resolved. Situations concerning safeguarding issues should be escalated immediately and not delayed.
The Dispute Resolution Process (DRP) allows IROs to resolve disputes at the very earliest opportunity through a process of informal escalation to the operational manager and then formal escalation to the Head of Service. In all circumstances every attempt should be made to resolve the concerns at the earliest opportunity between the responsible social worker, their manager and the IRO. The DRP should only be instigated as a last resort, where an agreement as to resolution cannot be achieved.
IROs can escalate their concerns to Senior Management (Heads of Service, Assistant Director Children's Services Operations and Director of Children's Services) at any time commensurate with the need and urgency of the concern or dispute. The Head of Service (Corporate Parenting Service ) and/or Assistant Director should ensure that all matters identified as reaching a threshold for dispute resolution, or in the dispute resolution process, are addressed with responsible social workers and line managers as soon as possible.
In those instances where a satisfactory resolution cannot be achieved the IRO may enter into formal dispute with the responsible officers/managers. In such circumstances an effective DRP is essential to aid the prompt resolution of the dispute, to get the care plan back on track, and to maintain positive working relationships.
5.4 Performance Management Meetings (Senior Management Team)
On a monthly basis operational managers, heads of service, the Audit Manager and performance management leads meet together with the Assistant Director of Children's Social Care to review performance activity and audit findings.
The purpose of this group is to ensure that all managers within Children Services Operations Care are aware of current and changing patterns and trends identified through performance data and audit and what this means for children, their families, service activity and service development.
The group requires middle and senior managers to understand their teams' performance data and service performance via audit and respond in terms of improvements required by identifying actions needed to ensure good performance is maintained. In addition, the group allows managers to be aware of the inter-relationship between activity and performance in different service areas, thereby identifying the impact and inter-dependencies between teams in terms of performance and practice. This group also provides an opportunity for the whole service to identify priority areas for improvement and be responsible for ensuring these actions are followed through as part of a continual monitoring and review process.
The findings from audits are shared and measures are agreed to achieve good and improved practice.
The outcomes from this group are reported 4-6 weekly to Children Services Operations Management Team by the Assistant Director in conjunction with the Head of Professional Standards and the Audit Manager.
5.5 Fostering Service
The Fostering Service has a discrete Quality Assurance process which dovetails with Quality Assurance Framework and activity within the wider service.
Audit tools for use in the service have been developed. The outcome of audits will be shared with the Audit Manager and moderated with final reports being circulated to the Head of Corporate parenting and SMT.
5.6 Children with Disabilities - Quality Assurance
A quality assurance process has also been developed for Children with Disabilities residential services.
The process includes include Regulation 33 visits.
5.7 Service User Feedbacks
Child Protection and Children in Need
The views of children and their families about the services they receive and the impact it has on their lives are sought and gathered in a number of ways:
Through their social worker;
Meeting with IRO/conference chair;
Through attendance prior to and after the conference/review at meetings about them;
Children and young people are consulted via the consultation leaflet for children, which they can give to the IRO or the social worker prior to their LAC review. Parents are given the opportunity to speak separately to the Independent Reviewing Officer and/or their consultation document.
The National Youth Advocacy Service offer an independent representation service for children and young people involved with Central Bedfordshire Children's Social Care.
The engagement of children with disabilities and special educational needs is addressed through the Support and Aspiration Board which reports to the Children Services Operations Management Team.
The Corporate Parenting Panel consults with children and young people through the Children in Care Council.
An annual survey is commissioned by the Independent Visitor Service focusing on the experiences of looked after children and identifying improvements that could be made to practice. The survey involves all looked after children who have an independent visitor, their foster carers and social worker. This report is to be shared with SMT.
The information contained in personal education plans provides an essential part of the management information about looked after children's attainment. They will also be subject to a regular dip sample audit.
It is important that looked after children are actively supported in obtaining a place in education, employment and training. This information will be scrutinised and monitored by the Head of Service, Corporate Parenting. Within this monitoring there will be additional focus on looked after children who have been excluded from school, including why they were excluded, and what provision was put in place for the period of exclusion.
There are two Children Services Operations complaints leaflets, one specifically aimed at children and one aimed at young people. These are given to all looked after children in their Looked After Children Information Pack and IROs ask each young person at their Looked After Children review if they are aware of how to use the complaints process.
Foster carers' views will be obtained via two separate processes. They will provide feedback on an annual basis through their annual review. In addition to this there will be an annual survey of foster carers. The findings from this will be collated into an annual report from which an action plan will be produced. The progress of the action plan will be monitored on a regular basis through the Senior Management Team.
Children and carers views are also gathered and evaluated to inform service improvements and service delivery in relation to those placed under Special Guardianship arrangements, and those in private fostering arrangements and receiving post adoption support services.
The Service User Feedback Survey is used to gather feedback from parents and carers who receive services from Central Bedfordshire Operational Teams. The survey is designed to investigate service users' opinion about many aspects of their contact with teams.
Feedback forms are received in the teams, and individual feedback is discussed in supervision between the manager and the practitioner. All returns are collated and an annual report produced to identify trends and service improvements, and reported to SMT. Themes for improvements will be identified, and measures to ensure change will be tracked.
5.8 Complaints and Compliments
Central Bedfordshire Council welcomes feedback from service users to inform the improvement of and user's experience of services. This feedback can be in the form of complaints - to help the service consider whether there have been gaps in the services provided, consider alternative ways of engaging with service users and improve service delivery and practice. They can also be in the form of compliments - where a picture can be build up of the strengths within the practice of Children's Services Operations.
All complaints are logged with the Customer Services team. The team compiles a monthly log of current Children Services Operations complaints and this is sent to all senior managers to track timescales and resolution. In addition quarterly reports of issues arising from complaints and how the service has addressed these and themes arising from complaints are reported to CSMT. An Annual Report is also produced and shared with CSMT and Scrutiny Committee.
Further external scrutiny of complaints takes place via the Local Government Ombudsman and through stages 2 and 3 of the statutory complaints process. An independent person is required to be involved in the investigation at stage 2 and stage 3 Complaints Review Panels are made up of three independent panel members.
A National Youth Advocacy Service advocate is allocated to each child or young person who makes a complaint to ensure their views and wishes and feelings are independently represented.
There are two Children's Social Care complaints leaflets; one specifically aimed at children, and one aimed at young people.
5.9 Children's Participation and the Children in Care Council (CiCC)
The Corporate Parenting Board consults with children and young people through the Children in Care Council.
Feedback from participation activities with looked after children are reported to SMT and the Corporate Parenting Panel and used to inform and improve practice.
Young People who are, or have been looked after, also take part in recruitment interviews of social workers, managers and senior staff.
6. Audit
6.1 Audit activity and the Audit Manager (Professional Standards Service)
Auditing is an intrinsic part of the quality process for monitoring professional standards. The purpose of audit is twofold. It retrospectively examines the quality of social care practice and supports the improvement of practice by identifying strengths and areas for development and improvement within teams and services.
Central Bedfordshire's audit tool provides a detailed overview on the quality of case work practice. In addition, the various audit episodes within the form, such as those for assessment, case recording and supervision, can all be used separately to produce more specific and themed audits and/or for use by the teams in their own auditing work.
The audit tool is structured around the quality standards that are informed by national legislation, regulations and local policies and procedures, and by Central Bedfordshire's guidance of the quality of practice for use by social care staff when auditing.
6.2 Peer Audits
Peer audits of randomly selected cases take place monthly and are completed by all levels of social care management from the Director of Children Services Operations to operational managers.
The auditor will address any immediate concerns regarding a child/young person's safety or well being with the relevant manager and practitioner.
Records of completed audits are sent to the allocated social worker, their team manager and the Audit Manager. It is the responsibility of the Audit Manager to ensure that the audits are placed in the supervision section on the child/young person's record.
The allocated social worker and their supervisor should ensure that the audit is discussed at the next case supervision to review the feedback, recommendations and the learning outcomes. The supervisor is responsible for ensuring that remedial tasks are carried out and regularly reviewed through supervision.
The Audit Manager collates and analyses the findings. This allows for key areas for improvement to be identified and form part of the ongoing improvement plan for the service. Audit reports are shared with social care managers for dissemination amongst their teams. The Audit Manager produces a 'bite size' version of key findings and recommendations for social workers and presents these at performance management meetings and service meetings. Summary reports of all audit findings and analysis of areas of strength and areas for improvement and how these are beings progressed by the Assistant Director and heads of service are reported to CSMT monthly.
Audit reports are used within teams / services to:
Identify 'what works' and the areas that require development and improvement;
Consider issues to be addressed in detail in a themed audit;
Build Central Bedfordshire as a learning organisation;
Assist reflection amongst social care staff and the ongoing supervision of staff on cases;
Assist with the development of team plans.
It is important to note that each subsequent audit report seeks to make comparisons, where possible, with the previous audit report. This is to measure the impact and outcome of audits and evidence whether it is helping to drive forward improvements across teams.
All cases which are graded inadequate are re-audited within 3 months to ensure deficits have been addressed and improvements made.
6.3 Themed Audits
Themed audits are regularly carried out to look at specific issues such as supervision, care plans, the child's views, etc using sections of the audit form template or by adapting this to produce bespoke audit tools.
Themed audits are disseminated in the same way as the standard audit reports as described above.
6.4 Audit Prior to and/or Within Supervision
Managers are required to audit cases or aspects of cases within their supervisions. Managers are required to ensure that learning from audit informs practice improvement through individual supervision and action planning in team meetings.
6.5 Audit at the Point of Transfer/Closure
Managers are required to undertake audits at the point of transfer and/or closure. Central Bedfordshire Council's transfer protocol provides more detailed information about this process.
6.6 Actions Arising from Audits and Action Plans
Each round of audit activity should result in a plan to address areas for improvement developed by the relevant Head of Service, audit managers, operational managers and managers from within the Professional Standards Service as appropriate. The implementation of improvement plans is monitored by the Audit manager who reports to SMT. Re-audits are undertaken of all inadequate cases within three months and at agreed intervals in respect of themed or service specific audits to ensure that there has been a sustained improvement in practice.
Monthly meetings of the Professional Standards Team are held to review findings from performance management information, audits and quality assurance meetings and service user feedback. These meetings will be led by the Head of Professional Standards and attended by the Practice Manager CRS, the audit Managers, consultant social workers and Learning and Development. The purpose is to develop plans for improvement alongside the consultant social workers, who will be responsible for embedding any learning and raising practice standards. The Learning and Development Manager will be invited to the monthly meetings of the Professional Standards Service to ensure that findings from audits are incorporated into the Learning & Development programme, or bespoke workshops are held on emerging themes from audits.
7. Workforce Development - Learning and Development
7.1 Learning and Development
Professor Munro's Review of Child Protection identified 8 principles that need to underpin a good child protection system. One of these principles is that "Good professional practice needs up to date knowledge of the latest thinking and research". The Review went on to specify that there are key capabilities that social workers should have when working with vulnerable children and families. These are:
Knowledge;
Critical reflection and analysis;
Intervention and skills.
The Social Work Reform Board has highlighted distinct areas for reform:
Overarching Professional Capabilities Framework;
Standards for Employers and Supervision Framework;
Principles for Continuing Professional Development;
Requirements for social work education;
Effective partnership working.
Central Bedfordshire Learning and Development Children's Social Care offer a comprehensive training and development programme for social workers and managers, and ensures that staff are trained in new legislative requirements, policies and practice changes. The Learning and Development Manager meets regularly with senior managers to plan and respond to the learning and development needs of the social care workforce.
A Professional Capabilities Framework has being implemented across the Service and this will be used to monitor social work practice. This is linked into the PDR process for practitioners.
The Standards for Employers and Supervision Framework has been reviewed and the outcomes of this will be kept under review and development as part of this framework.
7.2 Supervision and Case Practice Workshops
Central Bedfordshire Council are committed to the ongoing development and improvement of supervision to support best practice that impacts on the lives of children and families to improve outcomes. Supervision is a two way, regular and ongoing reflective process to ensure effective service delivery which is child centred but also meets the expectations of the organisation. The process should also include supporting staff in their personal and professional development to build a safe and effective workforce.
Supervision standards are set out in the Supervision policy. Audits of compliance with the policy will be routinely undertaken as part of the monthly peer management audits and as a specific themed audit.
7.3 PDRs and 360 Feedback
Performance Development Reviews are a key tool for managers to scrutinise and monitor impact on practice across the service against practice standards and the Professional Capabilities Framework. Employees will be supported to achieve the required standards with informal/formal personnel procedures used when it is judged they are not met.
The appraisal process is also used to highlight any learning and development needs with outcomes informing the Workforce Development Strategy.
8. Governance & Scrutiny
8.1 Children Services Operations Management Team
A fundamental role of this strategic management team is to oversee the operational function of Children's Services, to receive information on the quality of service and performance and to ensure that implementation plans are effective and improving quality. The Performance Management Team and the Professional Standards Service support the Children's Services Management Team in analysing performance and provide regular reporting on audit outcomes.
8.2 CBC Children's Safeguarding Board (CBSCB)
The core objectives of the Central Bedfordshire Safeguarding Children Board are:
To co-ordinate what is undertaken by each person or body represented on the CBSCB for the purposes of safeguarding and promoting the welfare of children in the area of the Authority; and
To ensure the effectiveness of what is undertaken by each person or body for that purpose.
The CBSCB core functions are to:
Develop policies and procedures for safeguarding and promoting the welfare of children;
Monitor and evaluate the effectiveness of what is done by the local authority and partners individually and collectively to safeguard and promote the welfare of children and advise them on ways to improve;
Undertake serious case reviews of cases where a child has died or has been seriously harmed in circumstances where abuse or neglect is known or suspected and advising on lessons that can be learned;
Collect and analyse information about the deaths of all children normally resident within Central Bedfordshire with a view to identifying any matters of concern affecting the safety and welfare of children in Central Bedfordshire;
Ensuring robust risk management systems are in place to support core objectives, allocating partner resources as appropriate and communicating significant risks to all relevant bodies.
The CBSCB is chaired by an Independent Chair who provides challenge to all member agencies in accordance with Working Together 2015.
The CBCSB Practice and Performance Group has developed a robust performance framework to monitor single and multi-agency work relating to safeguarding and had developed performance indicators which support the CBSCB Business Plan priorities.
In addition the CBSCB undertakes a series of multi-agency audits and disseminates learning and messages from these audits to practitioners and managers across agencies. Re-audits are undertaken to evidence changes in practice as a result of learning from previous audits.
Case Reviews are undertaken in relation to specific cases referred for review by partners at the case review group where a case does not meet the criteria for a serious case review.
Learning from case audit and case reviews are collated on a learning log.
In addition audits of agency arrangements in respect of safeguarding and child protection are undertaken by Board members (Section 11 audits) and findings reported to the Strategic Board. Individual agencies are responsible for putting in place remedial or improvement actions arising from the findings of Section 11 audits.
A further function of the Central Bedfordshire Safeguarding Children Board's scrutiny function is carried out through the Serious Case Review process.
When a Serious Case Review takes place the CBSCB identifies learning and monitors that practice has improved as a result of the review. Action plans are developed and reviewed by the Board and where necessary a re-audit of practice will be undertaken to evidence practice development and improvements. These will be reported to the Board.
The Central Bedfordshire Safeguarding Children Board demonstrates good practice by:
Being proactive in ensuring that lessons are learned from SCRs and in disseminating information from SCR findings. The SCR process needs to be amended so that not only does it focus on what went wrong, but also why it went wrong;
Ensuring that recommendations are implemented, holding agencies to account for progressing their action plans;
Using SCR findings to drive improvement and to influence future plans;
Learning from the process of carrying out SCRs;
Understanding how implementing the findings of SCRs make a difference to children, young people and their families.
All Internal Management Reviews (IMRs) either as part of a case review or a serious case review are reported to the Assistant Director of Children Services Operations and the Director of Children Services Operations. The Assistant Director reports to the Children Services Operations Management Team and the Director of Children Services Operations to the Central Bedfordshire Safeguarding Children Board on the delivery of the action plans arising from IMRs and serious case reviews.
8.3 Role of Lead Member
The Lead Member for Children's Services is politically accountable for ensuring the Council fulfils its legal responsibilities for safeguarding and promoting the welfare of children and young people. The Lead Member for Children's Services is a member of:
The Central Bedfordshire Safeguarding Children Board;
The Children's Trust Board; and
The Corporate Parenting Panel in the role of chair person.
In addition the Lead Member for Children's Services meets regularly with the Director of Children's Services and the Chief Executive on a one to one basis where matters of concern can be discussed. Deputy executive members are also involved in some discussions and will, from time to time, make visits to the Children's Social Care teams to understand the work.
The role of Children's Services Overview and Scrutiny is to provide challenge to support service improvement. The above form part of the governance arrangements within the Council.
8.4 Corporate Parenting Panel
The purpose of the Corporate Parenting Panel is to ensure that all services for children and young people in care and care leavers are delivered to a high standard, meet statutory requirements and impact positively on children's lives.
The Panel also ensures that elected members are aware of their corporate parenting responsibilities and that all council services are mindful of the needs of children in care.
Membership of the Panel comprises of elected members, the Assistant Directors of Children's Services and Adult Social Care, Health and Housing, the Assistant Director of Children's Social Care, who is the lead officer for preparing papers for the group, with other officers in attendance as required. The Panel is chaired by the Lead Member Children's Services.
The Lead Member can propose that reports presented to Corporate Parenting Panel are subsequently reported to Children's Services Overview and Scrutiny.
8.5 OFSTED
Regulation 33 arrangements in respect of residential homes are statutory and are undertaken as part of the quality assurance processes for two settings provided by Central Bedfordshire in relation to children with disabilities. (Refer Appendix 1: Quality Assurance Processes)
OFSTED is the regulatory body that has responsibility for the inspection of children's homes, fostering and adoption agencies and private fostering arrangements, as well as the inspection of arrangements and services for safeguarding children and looked after children under the single inspection framework (SIF). It is also responsible for thematic inspections of aspects of children's services activity.
These inspections consider key aspects of a child's journey through the social care system, focusing on the experiences of the child or young person, and the effectiveness of the help and protection they were offered. The inspections are intended to identify strengths and areas for development and their specific recommendations should be included in the overall quality assurance activity within Children's Services.
Children's Services will respond to all recommendations arising from an inspection by formulating an action plan with partners, progress against which is monitored by a project board.